---
123 Kwiaty
Animex Rafał Sumigowski Urocza 14a, Rybnik, Silesian, 44-251, Poland. Poland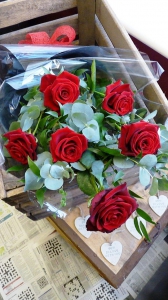 Independent Reviews
The flowers were beautiful but delivered at the end of the day.... Otherwise excellent!
Great value for beautiful flowers.
Excellent service, I ordered a service in Colombia to deliver in Poland and everything was done as I've asked. Totally recommended
perfect delivery and timing
The flowers were delivered the same day I ordered them and my family were very impressed with the service
The recipient of my flowers in Poland loved them. And I ordered the flowers all the way from Canada. Thank you!
The recipient said they were "beautiful" so I'm happy.
Very good service and beautiful flowers and arrived on time would recommend them.
The flowers were gorgeous and florist was exceptionally helpful. I added a vase post order and payment through PayPal was very easy. Flowers were delivered on time and exactly what I wanted. I could not be happier.
Perfect thanks for arranging everything. Definitely recommend.
Lovely flowers delivered Thank you
My Girlfriend loved it! i cannot thank you enough! <3 This was one of the most beautiful things ever and that's for the good presentation <3
That was a great expirience. Just ordered flowers to familly day. The floeers arrived on time in a nice bucket and they look so good i couldnt believe they are real. Nice wrapping and nice arrangment. Choose this place youvwont regret. I wish i could attache a pic
Beautiful bouquet sent to my family, with prompt and accurate delivery. Thank you very much!!!
The recipient said they were beautiful roses
Flowers were delivered five hr. after the time I asked them to be delivered. Flowers are spectacular.
The fowers were fresh nicely arranged and delivered on time
Once again beautiful flowers and excellent service. I love using direct2florists to send my flowers to Poland. I have also personally been in this shop and the staff are so very helpful and friendly. I will be visiting Strzegom again soon and will once again be visiting the florist xx
My daughter had her Birthday whilst working in Poland, very pleased to say the service from this florist was very good and the flowers were as pictured on their site lovely, bright and happy, thank you.
6 Red Roses
6 medium stemmed red roses